Finally finally finally I can write this race recap - and yes, I only ran it today, but I've been waiting to run it since September! My PR going into this race was 1:17:08 at the SIA Track Attack on 10/27/12, which was my first 10K. My goal was 1:14:00.
I have to admit I slept terribly last night even though my daughter spent the night at her Grandma's house, which usually lets me sleep better. I even had a nightmare that I got there late and forgot my bib so I had to fill out this really really long day-of registration form that included a short novel and a pop quiz (brain...what??), and by the time I finished the form, it was too late to run the race!
Fortunately, that dream didn't come true. The alarm went off at 6:25 and though I snoozed a couple times I made it out of bed. I got dressed and toasted my bagel, but only managed to eat half of it and without my usual PB at that, but oh well. (Thanks, baby - but at least I know WHY it's been so hard to eat breakfast this past month!) A quick weather.com check revealed that it was supposed to rain between 8 and 9, which was oh, most of the time the 10k would be going, and thus lead me to grab my running jacket instead of my fleece since it's nominally water resistant. With minimal poking and prodding my husband rolled out of bed too, and after a cute miscommunication where he thought we weren't leaving until 7:50 (which for an 8:15 race was actually when I wanted to BE there), he too got dressed and I managed to push my now-cold toasted bagel half onto him so I didn't have to try to force it down. Huzzah! A couple glasses of water later, and we were out the door.
The drive was uneventful, it was essentially the same as the one I'd made for packet pickup and in short order we were there, by 7:53. Parking was as abundant as promised and walked about the half mile to the start line, where I got in line for one of the 8 portopotties. (8! More would have been nice...it was a relatively small race, less than 700 people, but still...more would have been really nice!) Fortunately I got through the line before the 10K started and was able to line up in time. As we were waiting for the gun to go off, it of course started drizzling, right on cue. Ah well.
Before I knew it the gun was sounding and we were off - the course started a little odd where we had an out-and-back before we ended up in the majority of the course, about a half mile each way for the 10k and a little less for the 5k course. It was a literal road race, where we ran in the right lane of a 2 line road the whole way (which was a little odd, because they didn't fully stop traffic, but it worked surprisingly well.) The first mile flew by - literally! I clocked an 11:07 mile because I forgot my walk break in all the excitement of FINALLY running the Cupid's Dash. I settled in for mile 2 with 2 minute walk breaks every 5 minutes and clocked an 11:53 mile. Around here the 5K and 10k courses split off and I was amused to hear people talking about how flat the course was, because I must be a hill baby - the first two miles were steady rolling hills, not the horrible kind you have to walk through but the steady baby hills that just sap you. But I was still excited and plowing forward.
Mile 3 was a lower 12:16 because I stopped extra for both water, and for candy. Yes, I got my chocolate on course - a little peanut butter cup I stuck in my pocket for later :D Mile 4 was also slow at 12:15 for a couple reasons. I think part of it was because around here I ended up getting stuck in a pack of 6 or 7 other runners - 4 of them running right next to each other. I ended up running around them a lot, they were walk/running too and we never quite matched. I'd end up running near them for another couple miles. It was a little irritating, but at least I wasn't on my own on a strange street! This mile was mostly slower though because I had to seriously entertain the thought of "What happens if I throw up on the course?" I don't know if I was overdoing it or if it was the pregnancy, but my stomach was threatening to make its presence known in an unpleasant way. The nice part was I clocked my 5K at 36:30, so I knew I was on pace to both PR and beat my goal time for this race despite my stomach.
Mile 5 though...man. 12:01 isn't too awful, but I've no idea how that mile ended up so fast because the entire mile was uphill. Literally. My garmin say it went from 657 elevation to 689 and it was uphill the entire time. I don't know what that would be for other runners, but for me, that was a monster! The second water break here was so welcome, although oddly - especially considering the temperature - the water was warm. Like, warm warm. Weird.
The sixth and final mile was 11:53 - I was ready to fly to the end, but the entire mile was slick with ice. Everyone had to walk the baby downhills for the most part because otherwise you were in real danger of just sliding - it was pretty crazy, the woman next to me literally stopped and coasted at one point! It was absolutely surreal. I finally broke free of the pack I'd been stuck in when almost all of them decided to walk the ice slick - I wasn't ready to walk, but I did take super tiny steps. It was a little nervewracking though and even the police on site directing us commented that we needed the road salted! I was so so happy to see mile marker 6. I hauled butt, and my garmin shows I clocked a 10:19 pace for that last stretch. I was ready to be done!
I hadn't even been looking at my time, so was shocked to see when I stopped my garmin that my time as 1:13:24 - I'd not only PR'ed by 3:42, but I'd beaten my goal time by more than 30 seconds. Average pace of 11:52...which is funny, because not that long ago, I was shocked to finish a 5K and maintain a pace under 12 - to the point where I pushed it so hard that I nearly did throw up at the finish line! And now, I comfortably held that for a 10K.
Some post race thoughts:
1) I do think if I wasn't pregnant I could have broken 1:10 - I consciously slowed myself down at points. I'm not going to stop running because I'm pregnant, but I also know this isn't the time to push myself to my limit. Despite how happy I am with my time, I think it shows how far I've progressed with my running that the goal I set when I registered was so easy to achieve even when consciously taking it easy, and that makes this slow poke pretty darn happy :)
2) Oh, and this makes me happy too: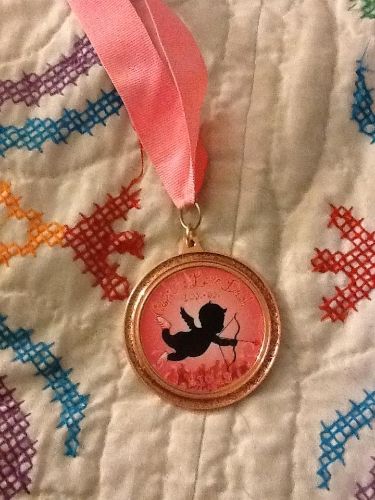 3) Planning to add a run after a run may not work so well going forward. I got home and was just absolutely done. I remember being exhausted the entire first trimester with my daughter, so this isn't shocking, but I got home and my husband put me to bed. I'm not going to stress over missing the 3 miles; this was a tough enough course that I think I got more out of it than I would have from 6 miles at home, plus it was at race pace. But note to self, this may or may not work while pregnant.